by Laurie Israel, Esq.
Article Categories
I like to take my vacations during the summer, and generally take two weeks, with several weeks of work between the two vacation weeks. I enjoy the change of outlook that the vacations provide. Also, I do not check emails, visit the internet, google, wiki, or check twitter during my vacations. I feel like I'm off the grid.



This summer, my first week was at the San Francisco Early Music Society baroque workshop in northern California. It was the fourth time I attended in 12 years. Two of the times, I attended with my brother (who had actually told me about the workshop). It's a great way of spending time with my brother and doing something very engaging for the week.
This time I went alone and spent a week playing cello, violin, and harpsichord with other musicians from 20 to 80 years old. I was immersed, and actually worked very hard, sometimes from 7 a.m. to 10 p.m.
When I got back to work, I realized I had been working too hard at work, and that I had been multi-tasking too much. I decided to back off from my busy schedule a bit, and reduced my multitasking, although I slipped once or twice. A couple of weeks after my return, I found myself on the phone with a client. After I had dialed her (during the dial tone), I resumed working, probably going to 2 or 3 different tasks at my desk during the time the phone was ringing her. When she answered the phone, I had no idea who I had called. Very embarrassing!
My second vacation was at the Fine Arts Work Center in Provincetown, where I spent the week drawing and painting a number of dried relics from nature, under the guidance of an artist/teacher. I got obsessed with a dried thing with tentacles found in the dunes and kept drawing and painting it. I worked from 9 a.m. to 3 or 4 p.m., mostly standing on my feet. It was exhausting, physically and mentally.
The photo bottom left is a digital Photoshop picture I made from the object, using a photo of it, the same object scratched out on clay board covered with India ink (with black and white reversed) and a superimposed nest I drew with pastels. I call it, "Insect Invasion." The bottom right image is a "self portrait as a bug."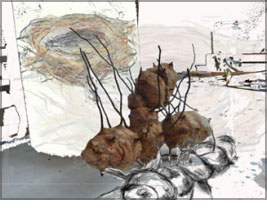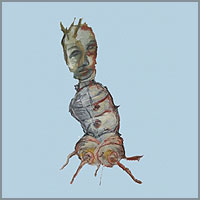 When I got back to work from the second vacation, I realized that being at work was like a vacation. Work was easy, relaxing, and fun, and remains so even 3 weeks later, at least most of the time.
I think that's what vacations are for – to give us a new outlook on life and work.
Copyright ©2009 Laurie Israel.

Laurie Israel is a founder of Israel, Van Kooy & Days, LLC, a law firm located in Brookline, Massachusetts. She combines a family law practice with estate planning, tax, mediation and collaborative law. Laurie is a former board member of the Massachusetts Council on Family Mediation and the Massachusetts Collaborative Law Council. Her writings include articles on divorce, mediation, marital mediation, and prenuptial agreements. You can find her articles on
www.ivkdlaw.com
,
Huffington Post
, and
Mediate.com
. She is the author of the forthcoming book
The Generous Prenup: How to Support Your Marriage and Avoid the Pitfalls
.

Latest posts by Laurie Israel (see all)